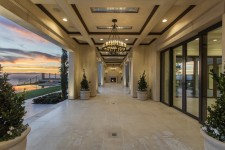 ADG Lighting Among Tradesmen Involved in Multimillion-Dollar Project
Los Angeles, CA, May 9, 2017 (Newswire.com) - Newport Coast's Pelican Crest neighborhood is the site of a record-breaking Avalon Vista home, selling for $21 million this year. The home prominently features the creative and fabricated designs of Los Angeles lighting firm ADG Lighting and several other premier tradesmen.
Specializing in high-end residential and hospitality spaces, ADG Lighting works on multi-family homes, spec homes, beach homes, restaurants, hotels, and landmarks worldwide, providing high-caliber design and sustainable lighting solutions.
"We're proud to be part of such an expansive and landmark project."

Gerald Olesker, Founder/CEO, ADG Lighting
"We're proud to be part of such an expansive and landmark project," said Gerald Olesker, founder and CEO of ADG Lighting. "The Newport Coast is a spectacular and beautiful part of Southern California, and it's a privilege to be practicing our craft in such a renowned area." This project is one of over 150 homes Olesker has completed in Newport Coast.
"As an architect, with so much thought and careful attention applied to composing a custom home, it's a joy to work with Gerald on lighting fixtures that truly complement our architectural design," said Richard Krantz, AIA Architect and founder of Richard Krantz Architecture. "He studies and understands the architecture, and his resulting creation contributes exceptional enhancement and just the right finishing touch to a great home."
The expansive project was masterfully constructed by Iraj Roohani, president of Pelican Developers. Roohani likes having custom lights in his projects, and enjoys collaborating with Olesker. "He is very detail-oriented and stands behind his work," said Roohani. "He'll go through the clients' needs in order to be cost-effective with the project."
The project included work from several other tradesmen, including Erwin Gutenkunst, president of Neolithic Design, who provided the fireplaces throughout the property.
ADG Lighting works on multiple lighting projects throughout the United States. Current projects include work in New York City, San Francisco, Chicago, and in major cities across Arizona, Nevada, Oregon, and Florida.
Source: ADG Lighting
Share: